RPG snow tileset
A downloadable asset pack
Get this asset pack and 7 more for $24.99 USD
View bundle

Presenting our first expansion set for the Fantasy RPG pixel asset pack~
This expansion pack contains everything you need for a snowy map: tiles, roads, trees, flowers, cozy houses, ice, decoration, christmas NPCs and monsters.
FEATURES
Full snow tileset (16x16px), including vegetation, hills and coastlines
Houses, a water well and wooden fences
Exterior objects such as signposts, bonfire, animated chests and more!
Christmas decoration (trees, giftboxes, candy canes, snowmen, etc.)
9 character sprites, animated (4-sides), including a big evil santa boss
(buy now and get free updates in the future!)
RPG BUNDLE GOALS:
[ x ] $450 --> Colour variations for every enemy and NPC (reached 1/2/21)
[ x ] $600 --> More christmas decoration (lights, wreath, garnalds, etc) (reached 11/4/21)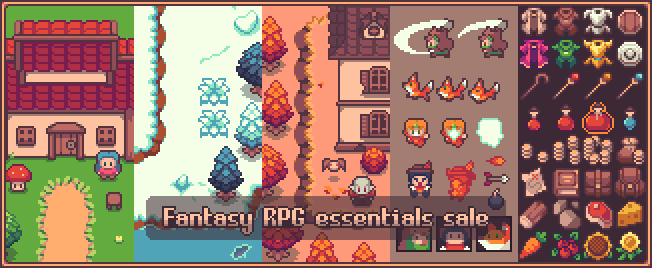 ---
Tileset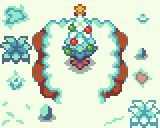 Objects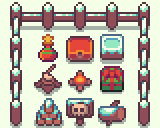 Character sprites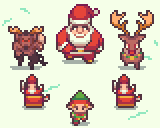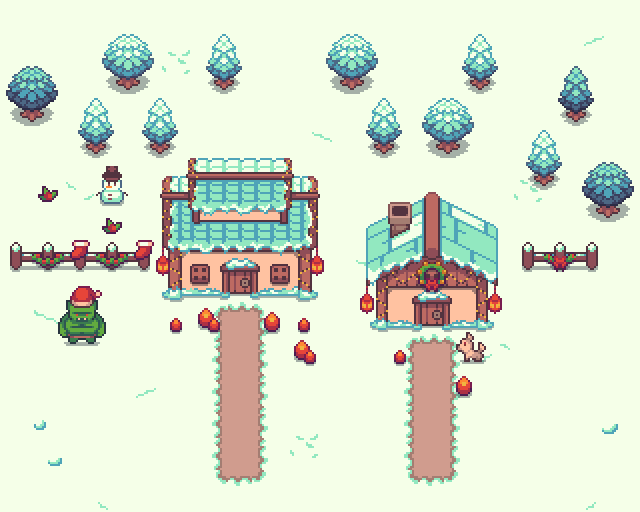 Buy and get downloadable .png assets and spritesheets ready to use. All assets come in two sizes (100% and 200%). Thanks for your support!
---
Go grab my other packs, too!:

Get full-sized battlers for the characters included in this pack:
---
License:

Feel free to use it on any commercial or non-commercial game, just remember to add a link to my itch page and/or Twitter, it helps a lot :)
Contact: for pixel art requests, send an e-mail to franukai@gmail.com
---
If you like it, please leave a comment, donate, or follow my other projects on Instagram or Twitter. If enough people show interest I'll add more free content to this, and create other packs (tilesets, monsters, etc.).
Download
Get this asset pack and 7 more for $24.99 USD
View bundle
Click download now to get access to the following files:
Fantasy RPG snow pack v1.2.zip
726 kB
Comments
Log in with itch.io to leave a comment.
Hi, unfortunately I haven't tested it in RPG Maker, so I'm not sure if it'll work there.

I'll be offering this pack for free on December, so you might want to wait until then and test it yourself :)
An absolutely amazing asset pack!
Used it in my game, Santa's Village Builder. It made the whole atmosphere of the game!
Thank you, :3 this for my RPG game.
You're welcome! Hope you make something fun :D
dude you have big talent this is so cool
Thanks man, I'm glad you think so!
Just bought this pack, looks nice. Just a suggestion; please make the full tileset image in power-of-2 sizes. For example, 512x512 or 1024x1024. Makes it easier to work with. Thanks!

Another great asset pack ! Any more seasons in the works?
Maybe spring , autumn ? Or a desert biome ? :-)
Thanks!
Haha I haven't decided yet, but I'll definitely do a desert biome one day.
Other options are Halloween pack, Enemy pack, Castle, House interiors, City...