RPG asset pack
A downloadable asset pack
Get this asset pack and 4 more for $12.99 USD
View bundle
Presenting a new set of cute hand-crafted pixel assets for your RPG needs~

This pack contains everything you need to start your first game project: Grass, water, roads, trees, flowers, cozy houses, friendly NPCs and angry monsters.
FEATURES
Full grass tileset (16x16px), including vegetation, hills and coastlines
Houses, water wells and wooden fences
Exterior objects such as signposts, mushrooms, animated chests and more!
6 monsters (21 variations), animated (4-sides), including a big ogre boss
15+ NPC characters with idle and walking animations (4-sides)
(buy now and get free updates in the near future!)
GOALS:

[ x ] $100 --> Colour variations for every enemy and NPC (reached 30/11/20)
[ x ] $200 --> 1 house (bigger) with colour variations, and 6 more sign types (reached 12/12/20)
[ x ] $400 --> 3 more animals, 1 more tree type (with variations), stone fences (reached 23/1/21)
[ ] $600 --> 3 crops to grow, and metal fences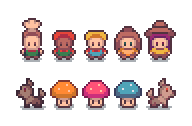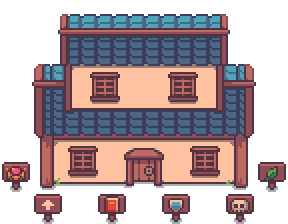 // Thanks so much to all who bought the pack, I'll start working on the 3rd goal rewards and upload the files soon <3 //
---
Tileset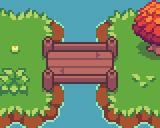 Objects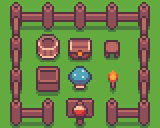 Character sprites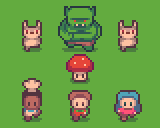 Buy and get downloadable .png assets and spritesheets ready to use in your project. Thanks for your support!
---
License:

Feel free to use it on any commercial or non-commercial game, just remember to add a link to my itch page and/or Twitter, it helps a lot :)
Contact: for pixel art requests, send an e-mail to franukai@gmail.com
---
If you like it, please leave a comment, donate, or follow my other projects on Instagram or Twitter. If enough people show interest I'll add more free content to this, and create other packs (tilesets, monsters, etc.).
Purchase
Get this asset pack and 4 more for $12.99 USD
View bundle
In order to download this asset pack you must purchase it at or above the minimum price of $5.70 USD. You will get access to the following files:
Fantasy RPG asset pack v1.3.zip
420 kB
Comments
Log in with itch.io to leave a comment.
did you consider making an attack animations?
Yes, that was out of the scope of this pack, but I'm planning to do an Enemy pack in the future including attack animations
cool, by the way, the blonde girl is missing idle animation
You mean NPC 09? I checked and it has both idle and walk animations
It should be there, maybe try redownloading?
Woooow Duudde there is so much sprites, totally worth 10 bucks
Haha thanks, I try to offer some good value and variety. I'll be adding more content in the near future, stay tuned!
Please consider rating the pack, it helps me a lot :)
Lovely! The animations make everything seem so alive.

This is an awesome pack!
Good job more little animals please !
Thank you! I'll add some animals in a future update :)
Can I recommend you also use twitter ? Many asset artist are onthere as well and its probably the fastest way to spread the word regarding your assets. Also there is an option here on itch where anyone that purchases can retweet .
Thanks, I actually made a twitter account a few days ago: https://twitter.com/Franuka2
Oh, didn't know about the share option. I'll try to promote it a bit more, upload some other works there, etc :)
Awesome work, well done :) !
This is pretty awesome. I hope you make additional packs / more art in the same style!
Thanks so much!
My plan is to add content to this pack as more people buy it, and also create other packs to complement it (different environments, character pack, maybe some icons, interiors, etc).